I also joined Mark today for a lil sewing machine maintenance. I worked on the Singer Stylist 478 which is an old machine - but it's a good one. Manual here and exploded parts list here (PDF)
I did the following:
cleaned it out in general
cleand out thread jammed up inside (may have been causing tension issues)
cleaned and greased appropriate gears and oiled oil points
checked belt/bobbin area, still need to check timing
collected up a few loose parts and reattached them
Findings so far:
New Belt Needed. approx cost: 10bux
New Foot Needed - 5-10bux (current foot is wrong one and full of needle strikes)
May need new tension unit - 20bux (tension unit may still be salvaged - another possibility is taking the unit off the other old singer and using that)
Cool Decorative Stitch Options! Machine is a cam machine and accepts 15 different cams for a wide variety of stitches, including decorative ones. Likely we don't have the cams however voila - they can all be printed! here they are.
Pic of stitches that should be possible by swapping in cams: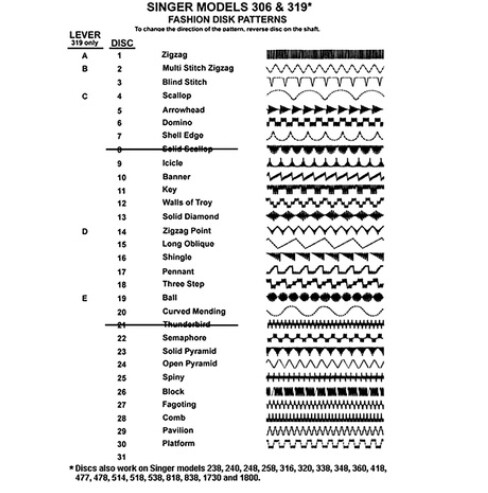 I took the machine home to finish maintenance (hope that's okay as tools do not usually leave the space to be used at home). This is for maintenance tho. Normally I would check first, but since I was there and had an Evo it made sense in the moment to take it home where I could spend more time working on it. I left a note on the sewing table.
I will post final recommendations when I'm finished checking out the tension unit and timing. Overall tho I think this is a good machine and with a few parts will be great as a basic sewing machine. One possiblity to reduce costs is to use the other old broken Singer (the 656) for parts.
Here are some pics: