Hi all,
I know EV charging has been discussed at various points in the past however as of now I can't see that any real movement has been made on the issue (at least on the forum, I haven't been the hackspace in a long time, more on that later). From reading the past discussions the sticking points seem to have largely been around cost and our limited electrical supply (which I believe we've improved upon given all of the recent electrical work?). With those two concerns in mind I'd like to suggest a more realistic way for VHS to establish EV infrastructure.
The most recent discussion on EV charging related to the installation of a Level 2 EV charger, which was 240 volt @ 30 amps. While level 2 charging is great for getting full batteries quickly, if that comes at the cost of only having charging available for a single vehicle this is a rather inefficient use of resources. Given this inefficiency I would suggest that VHS consider the expansion of Level 1 EV charging. Level 1 EV charging is quite literally plugging your car into a conventional wall outlet, which are 120 volts @ 15 amps. While these chargers provide much less charge per hour to a single car, the power required to operate one Level 2 charger could be used to operate four Level 1 chargers.
While many EV/PHEV owners will groan at the slow charging rate of Level 1 chargers which on average provide 8km/h vs the up to and beyond 30km/h that level 2 chargers offer, I suggest we consider the real world circumstances of this. While I don't have data on the average length of visit for members at VHS, I imagine it to be roughly 2-3 hours. 3 hours of Level 1 charging would provide 24km of range which when you overlay a 24km radius from VHS that covers the vast majority of metro Vancouver.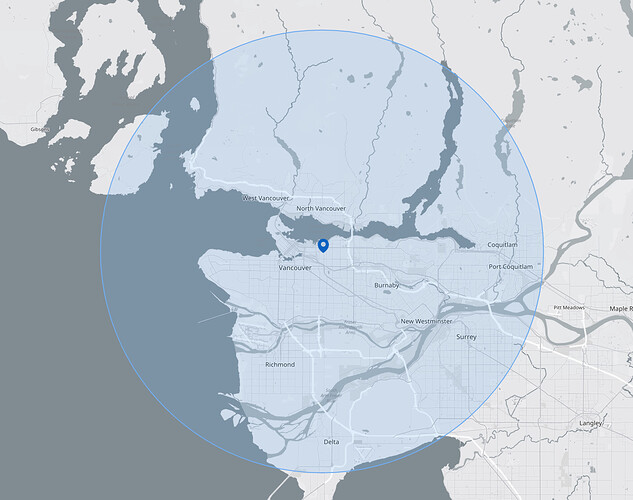 If we were to be able to install four 120 volt, 15 amp sockets for the four street parking spots on the side of the building we would greatly improve our EV charging infrastructure and increase the number of members who could access the infrastructure at the same time.
Disclosure time: I am not a current member of VHS, my membership has lapsed following the pandemic and given personal financial circumstances I haven't been able to rejoin VHS, so at this point I am basically some random person coming off the street into your house and telling you what you should do, feel free to ignore me for this reason alone. That said, as an avid EV advocate I hope VHS considers this for the future.
P.S, hope my abanda-loaned tools are still working well. Say hi to my circular saw for me.