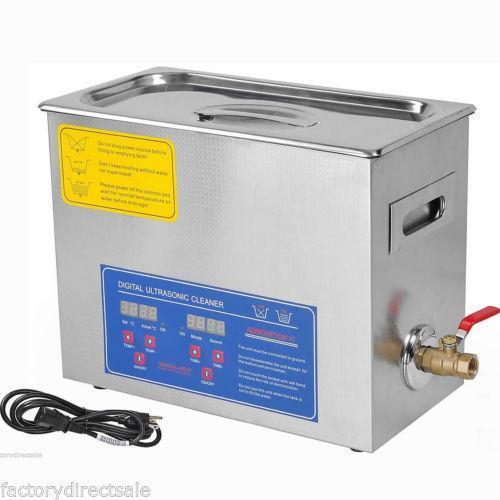 Hey everyone,
I'd like to propose a group buy for an ultrasonic tank cleaner at the space. If you aren't familiar with them, ultrasonic tank cleaners used for cleaning dirty, grimy and or corroded items by submerging them in a liquid, heating them up and using an ultrasonic transducer to cause cavitation bubbles on the surface of your part to get them super clean.
What kind of things can they clean?
They come in a variety of prices which mostly depend on the size of the tank. Other factors to consider when getting one is the heater power and if it has a side drain (makes it more convenient to remove cleaning fluid). On the low end, I think we should probably look at getting at least 2L. For our space, I think it would also be extremely useful to have a side drain for the device so that you don't have to carry the device to the sink to drain it, just drain into a bucket and toss the cleaner.
Low end proposal
Flexzion Commercial Ultrasonic Cleaner $139 + tax
PROS:
Cheap
2L
Quick & Free Shipping
Stainless steel
CONS:
Only 2L (~12.5cm each dimension for basket)
No drain
Ideal proposal
Angel Canada 6L Ultrasonic Cleaner $300 + tax
PROS:
6L
Drainage pipe
Canadian manufacturer
Quick & free shipping
CONS:
There are a lot of options at the $300 price point. There are also a few more expensive ones (Crest seems to be a high-end model but they start at $800. I don't think that is necessary).
Anyways, I'm willing to chip in $100 if we can get to the 6L model and would chip in $40 for the low end model. I'd like to hear your thoughts on this.