If you've been following #music-nerds in slack, you'll know I've been planning some filter DIY kits with the intent of running a build workshop some time in the next month or two.
We'll be building a voltage controlled filter module I designed, based on the Korg MS-20 OTA filter core and resonance circuit with some modifications:
Four simultaneous outputs:

6dB high pass
12dB low pass
6dB band pass
12dB notch

Two frequency CV inputs, one with an attenuverter
Voltage controlled resonance with adjustable drive (very weird and distorted at high levels)
Two audio inputs with linear crossfade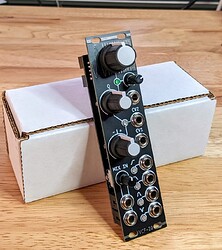 (Final panel may look slightly different)
The module is 6HP and mostly surface mount. We'll be using a stencil with solder paste, so if you've done any reflow soldering before you should be fine. Depending on your level of experience, plan to spend roughly 2-3 hours on assembly, plus an extra hour or two for calibration and troubleshooting. This is my first time running a build night so it's possible it will take longer than expected.
Kits will be $90 each. In addition to the board, panel, parts, box, and power cable, this includes a portion of the cost of a module for the space. If you're interested but on a tight budget, DM me here or on slack and we can work something out.
We'll start at 7pm on Friday Dec 9th. I'll be preparing a total of 10 kits with 2 reserved for myself and the space, leaving 8 slots for the workshop. Reply if you're interested!