I came to the open house about a month ago, and talked to some people there about my camper project. Now that I am ready to join as a member I wanted to put my project in the forums. So I built a bike camper in Sherbrooke QC, and toured with it and my ebike to Guelph, ON. A total of not far from 1000 kms in total. It was quite the learning experience! Now I have moved to Vancouver with the intention of building the campers to sell to the awesome cyclist community here. The first one I built I guess I could call my prototype 0.5 because it really was pretty far from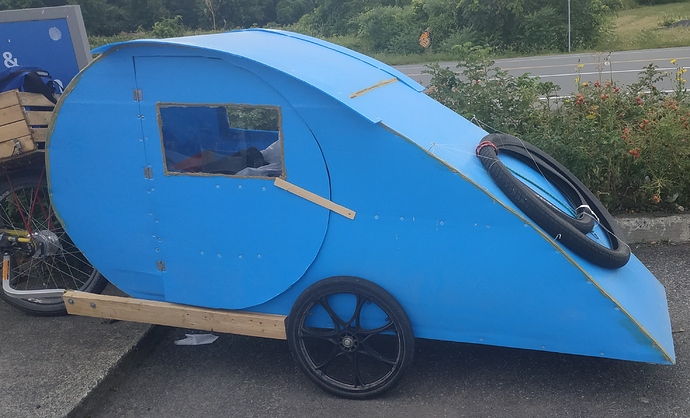 my idea for it.
I uploaded a picture of 0.5, I hope it shows up well in the forums here?
proto 1.0 which I hope to build at VHS will be very similar in shape to the one you see, and the overall dimensions will be similarish too approx 32" wide by about 7 1/2 feet long.
The key is being able to cut the coroplast in the laser cutter. I hand cut all the panels in 0.5 and… well… lets just say that my hand cutting skills arent up to snuff. The lines werent nearly straight enough to make it look professional for sale for sure.
If any of you want to discuss this I would be more then happy to chat! If people want more details I can do another post in this topic with more details of my vision too.
Thanks a lot peeps! you're awesome!
Mike