So for those of you that are unaware we were recently gifted an LED video wall, and its awesome.
More info about it here: LED video wall, donated by the Vancouver Aquarium
To sum up it consists of:
8 panels, each 44" x 50.5", and 112x128 RGB pixel resolution.
Each panel can draw as much as 8 amps of 120v ac at full white, but can be dimmed down to get the consumption below 2 amps each while still being brighter than our overhead lights
Driven by any computer that has a DVI/HDMI output, and will act like a giant low res monitor.
Mostly entirely working, we need to fix a few individual pixels on a few of the modules, and reprogram 1 receiver card ( we have 7 working ones though), and configure our sender card for whatever panel layout we chose.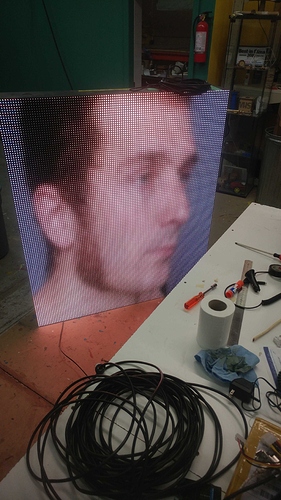 Constraints for where we put these:
The panels are reasonably heavy, approximately 80lbs/36kg each
Service access to the panels is through two hinged doors on the back of the panels, it would be good to keep this accessible so we can replace/repair modules and access the receiver card and power supplies.
Ventilation for the panels is through the back, you can't mount them tight to a wall.
A modest proposal:
With all that in mind the hive mind that was sitting around the hackspace the other day came up with an idea to mount them behind the second couch, facing the side door but mounted on a hinged pivot, allowing them to swing through 90 degrees and face the towards the woodshop.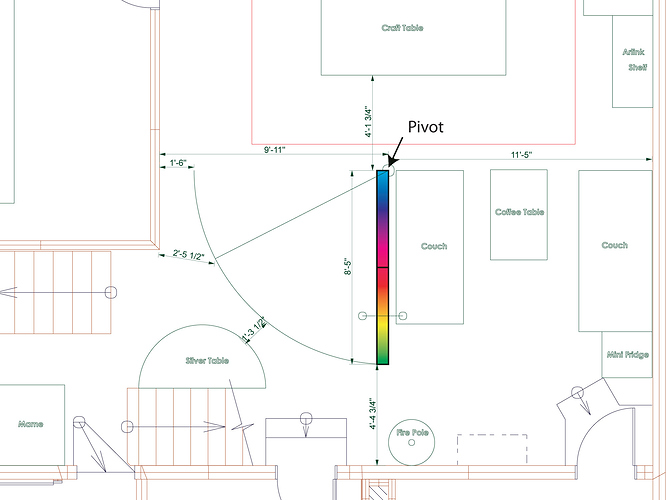 Some facts:
We could fit a 3 tall and 2 wide panel layout this way, giving us an effective resolution of 256x336 (this is basically mounting the panels sideways which the software supports).
The video wall would be 101" (2.57m) wide and 132" (3.35m) high. Our ceilings are 135" high so it will fit.
when fully swung though 90 degrees it would leave a narrow 1'6" aisle between it and the wall, but it could be easily swing back to line up with the corner of the mess room, which would give a comfortable 24" access-way.
Build would consist of a steel frame to support the panels, a pivot point secured to the floor (with landlords permission etc) and a second pivot located in the ceiling to secure the top of the display, as well as a pair of casters mounted to the frame that run along the floor. This will secure the panels, prevent them from tipping over, and allow them to be swung with minimal effort.
At full white this display could draw 12 amps at 30 out of 255 brightness, or roughly the same as a heat gun, we could dim this further if needed, or just avoid displaying a solid white wall, mounting a thermal overload breaker to the panel is another option.
Reasons for this idea:
Allows easy service access to the back of the panels and good ventilation to keep things cool.
Allows the space to get turned into party mode by rotating the display to face the large gathering area
Creates a great welcoming feature when people walk down the stairs for the first time, could be used in combination with a webcam to work like a magic mirror.
Shines a multi coloured light out the side window, illuminating our sign beside the side door
Things that would have to change:
The oak desk junkcatcher would have to be removed or placed on wheels
two fluorescent light fixtures would have to be relocated to accommodate the swing of the panels.
Would need one electrical circuit to power this thing
I hear those things are awfully loud:
They shine as softly as a cloud, well more or less, there is some fan noise, but if we are in party mode you are so not going to notice over even slight music.
I want to mount a big ole wall switch to the side of the display to turn it on and off
But what about sidewalk pong through the front windows?
This layout uses 6 of our 8 video wall panels, leaving two to be used upstairs. I personally want the two upstairs to be run off a different sender card arrangement to prevent… accidental… unfortunate displays of things that shouldn't be displayed publicly. Yes we have some damaged modules with stuck or dead pixels, I am figuring that if we cant fix them we can put them near the floor or ceiling and say good enough.
Isn't there more important projects at the hackspace that need doing?
Oh god yes, like the electrical, metalshop, woodshop, moldmaking and casting room, member drives, training programs, bathrooms, security system, access control system. All of those are way more important, and people should step up to help with those.
I don't particularly have the cycles to deal with that above list, but this project excites me, is relatively low stress and I think it would be a good addition to the space if for no other reason than giant insane LED video wall.
Anyone got a better idea of where to put this?
We looked at some of the following options
Running them along the top of the wall down the side of the space. - issues with access and ventilation
Hanging them from the ceiling trusses facing downwards - painful to install and repair, slight risk of video display of Damocles
mounting them to a pivot on the mess room wall - pivot causes display to strike craft table, no access aisle.
Mounting them to the mess room wall - no access to back of panels, no ventilation.
So yeah, let me know if you have a better plan, and post it below.