Hi all,
First off I wanted to call out the awesome hacker who's been replacing the old washroom light switches with brand new motion sensor activated ones. Thanks!
Second, these spaces need a bit more work.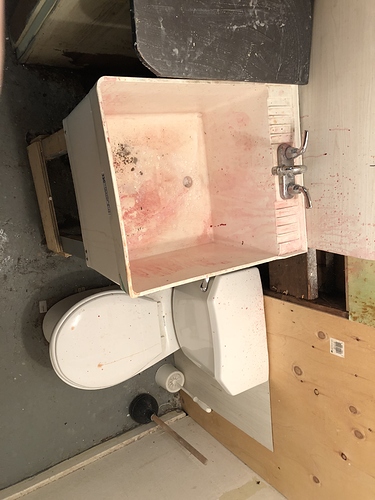 The wall separating the two washrooms has rotted and should be stripped out and replaced
I am suspicious that there was a water leak from higher up in the building that someone was trying to locate
Concrete flooring by the sink has eroded and needs to be fixed
@Billiam, would some of leftover the concrete from your metal shop levelling project be suitable for this project?
Toilet in one stall is not securely seated and rocks (there are wooden wedges hammered between the toilet base and the floor)
One of the door has warped and cannot be shut at all
Totally unsuitable for folk with mobility issues (this is, I suspect, a long term project involving permits and grants)
I realize it's not as glamorous as other parts of VHS but it definitely needs a bit of help. Any advice from folks with remodelling experience would be welcome.