Awesome, thank you @Pat and @Ivan_Erasmus! I'll DM you details.
The new lathe is already at VHS, but is still on a pallet jack, and the old lathe has been moved out, and is also sitting on a pallet jack in the DMZ temporarily.
From initial inspection, the new lathe is in amazing condition. It looks like it's been barely used, but has been stored for quite some time so needs a deep cleaning and oiling. This is going to be a great asset for members - THANK YOU EVERYONE!
Cost wise, the riggers were $300, the pallet jack (x2) and crowbar (x3) rentals were $122, and we may have an additional $300 if we have to move the old lathe too (TBD).
$402.40 + $50 (Pat) + $75 (Ivan) = $527.40
$527.40 - $300 - $122 = $105.40 towards getting it up and running!
Please note that the machine shop is OUT OF ORDER right now unfortunately.
PLEASE DO NOT ENTER THE MACHINE SHOP UNDER ANY CIRCUMSTANCES!
Sorry for the inconvenience, but it's incredibly dangerous as the lathe is very easy to tip in its current state. VERY EASY.
Here's the arrival: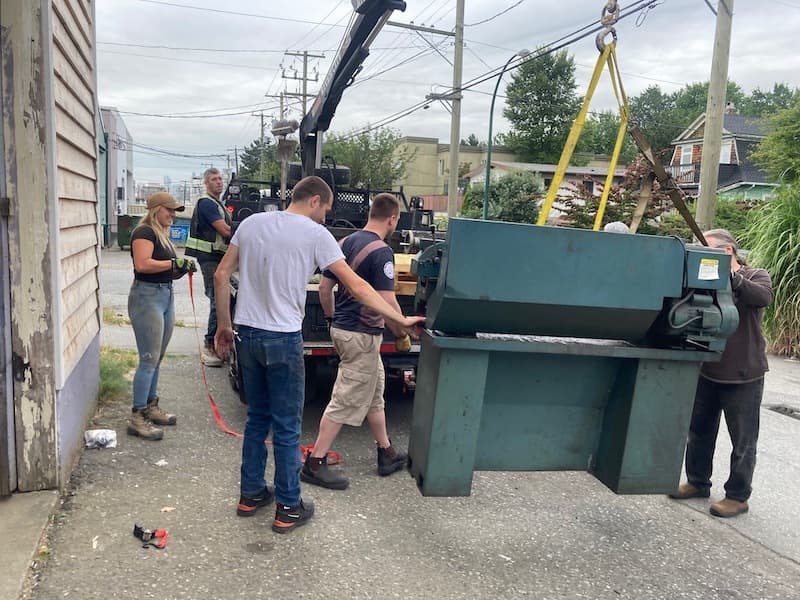 And getting accustomed to its new home: