We have a wood dust problem in the space. Dust collection is being discussed elsewhere (https://talk.vanhack.ca/t/qgm-proposal-budget-proposal-for-dust-collection-improvements-for-the-woodshop/12977 and #dust-collection-working-group on slack) so let's focus on the door here.
I see two problems with the door:
A. The self-closing mechanism is no longer working as well as it once did.
B. When closed, there are large gaps around the edges where dust can escape the wood shop.
---
For problem A, I propose that we:
Replace the trolleys. These are $98.44 (including tax and shipping) for a set of two: https://www.princessauto.com/en/2-pk-square-track-adjustable-strap-trolleys/product/PA0008979429?skuId=8979429. If the existing ones can be cleaned/rebuilt then we'll have a spare set for next time.

Tilt the track slightly so that it closes with gravity and doesn't require the counterweight (or requires less counterweight). This may require the purchase of a couple more hanger brackets, at $6 each (plus tax): https://www.princessauto.com/en/square-track-face-mount-bracket/product/PA0008979361. I say this because the existing ones are showing some signs of slippage, which suggests to me that more support is needed:

If we are tilting the track we may not be able to re-use the same mounting location though.
---
For Problem B, I propose that once the self-closing action is reliably restored, we install strip brushes at all the gaps to block dust from crossing into the main space. These come in a thousand different varieties (and prices), but here is one example made for a standard 36" door that costs $38 on Amazon. I'm sure we could do better if we shop around.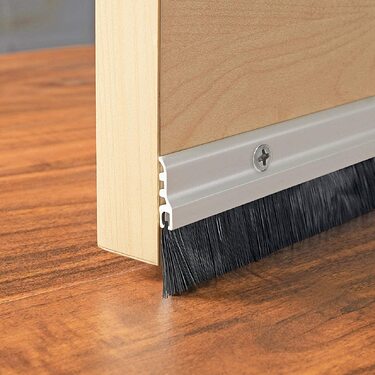 ---
Is this something that can come out of the building improvement budget? I'm happy to order the parts if I can be reimbursed. I can help with the installation as well but handling the door is going to be a 2-3 person job so I would need help.
Edit: anyone with more door experience is also welcome to chime in