In the ongoing quest of furthering my limited 3D modelling and CNC machining skillz I set myself the task of modelling and machining a small part.
The fusion 360 model is essentially a single sphere cut in half with an angled slice cut out of the top part and then a small arc revolved inside the slice to create a dimple. This was then circular patterned around a center axis. Fillets applied to all the joins and then added an extruded circular base to finish this model off.
Then it was on to CAM machining paths. Being my first time at 3D machining this means deciphering what all the different 3D CAM path strategies do. I picked 3D Adaptive Clearing to rough away material, followed by a 3D Morphed Spiral for the 3 dimples, followed by a Spiral to clear out the rest of the material. Finally a 2D profile for the outer circle.
I was using a 1/16th Ball Nose end mill which required setting up a new tool in the Tool Library.
I'd love to say that this took me all of 1/2 hour but it was likely closer to 3-4 hours to do the model/CAM paths/Tools Setup.
Here's the Fusion 360 model.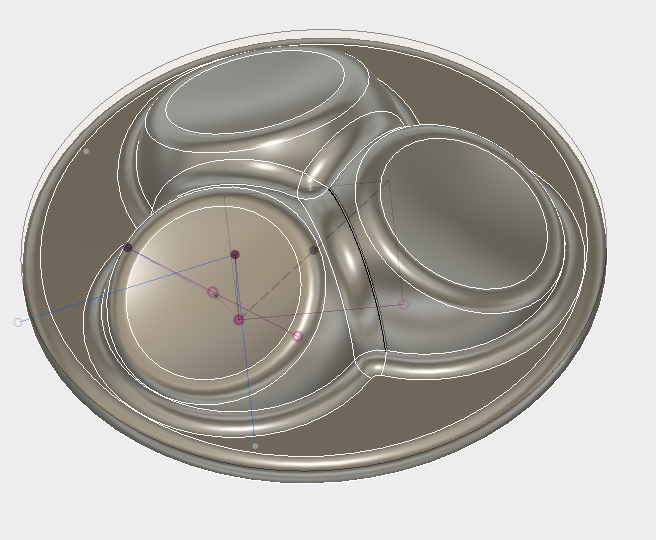 I 3D printed this model for a quick sanity check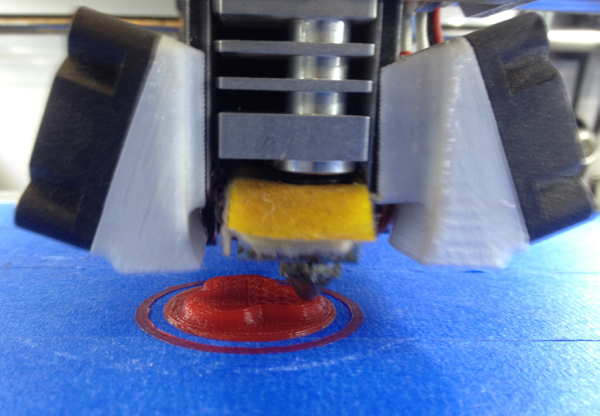 Looks good.
Using a 1 1/2" square by 1/2" thick aluminum bar stock for this.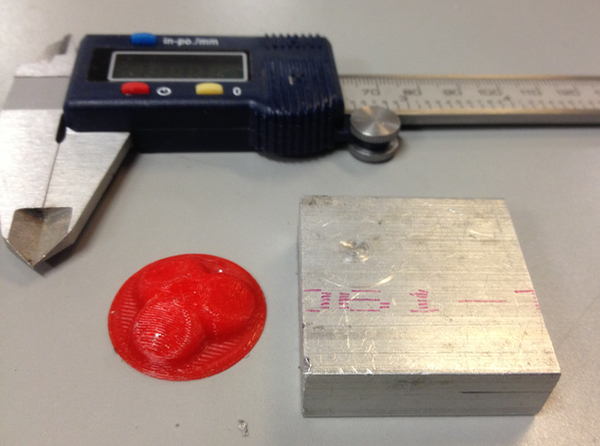 Aluminum stock all clamped up on parallels in the vise on the VHS Taig CNC.
First up is the adaptive clearing: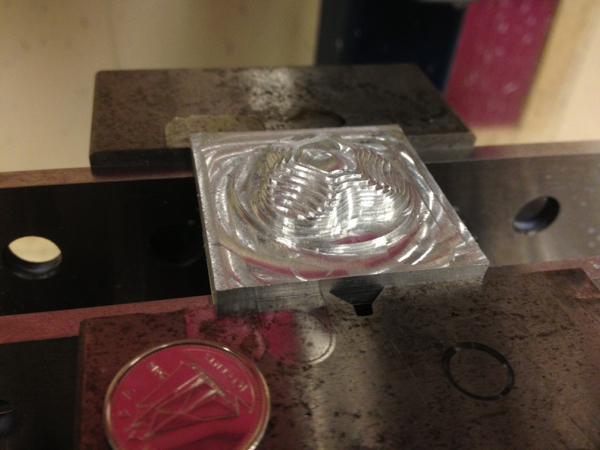 Followed by the Morphed Spiral to clear out the 3 dimples
Followed by the Spiral which clears out the rest of the material
And finally a 2D Contour which just clears the material around the outside circle.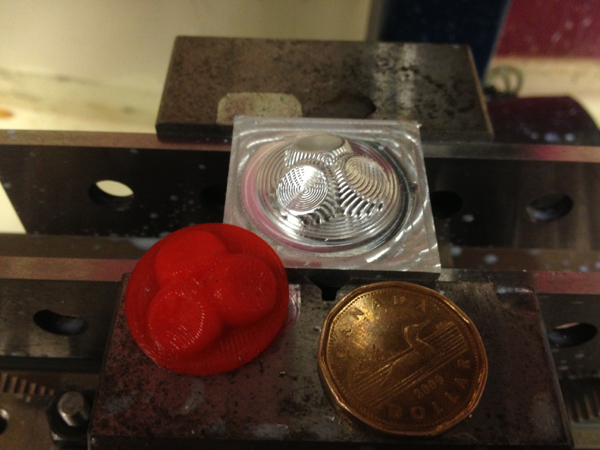 I have yet to figure out how to separate this machined part from the base. I was thinking of using the manual lathe but there is nothing to really hold with the chuck. Sanding is going to take a looong time. Sawing? I like my fingers thank you. Perhaps a different design then. Live and learn.
What I would like to know is how to get those super smooth finish that you see on all the NY CNC videos.
I'm guessing a combination of CAM path strategies and different (Smaller) bits will do it. Suggestions and comments welcomed!
So the total time for this small project was about 8 hours. Learned a bunch. Hope to learn more!
Mark