Hi:
Question for the Laser Cutting Committee.
I'm wondering if Duralar sheets can be added as an approved material for the laser cutter.
I've picked up 3 sheets of 005 mil Graphix Clear Duralar film from Opus Art Supplies.
Each sheet is 25"x40" and costs $4 per sheet.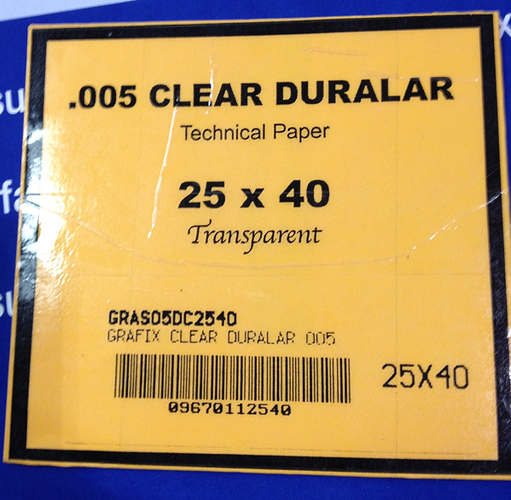 I plan to make large stencils for art pieces as well as pcb solder paste stencils
Common Names: boPET, PET film
Chemical Names: poly(ethylene terephthalate)
The MSDS indicates that this material is not a "health hazard"
The Graphix Spec Sheet indicates that they do laser cut this material for their clients.
I've come this post where someone has laser cut pcbs mylar stencils Duralar/Mylar are trade names for polyester film products
Universal Laser Systems data page says Duralar is laserable but provides the following cautions
"Cautions
PET cutting produces flammable vapors. Always use adequate ventilation and never leave a PET cutting operation unattanded. "
These would be fairly fast cuts as these sheets are 5 mil (thousandths of an inch) so I would expect the cutting time and corresponding fumes to be kept to a minimum.
Thoughts?
Mark