Years ago at cook street I made an end-grain cutting board for my brother out of maple and walnut that was designed to span a kitchen sink in a small open concept kitchen with almost no counter space.
My parents recently moved and my dad asked if he could have a similar one made. When I dove into exactly what he wanted, it turns out he just liked the maple/walnut combo but not anything else (at least for his house). He also wanted it larger than the one I made for my brother and quite a bit thinner.
I present to you my walnut/maple cutting board for my dad.
It is 16.5 inches by 14.5 inches with a very clean relief on the edge (not too rounded since that impacts function as you scrape off the board)
I experimented with wire-bending some steel wire to make a brand, and while not perfect, I enjoyed the process and will likely mill something to be my brand.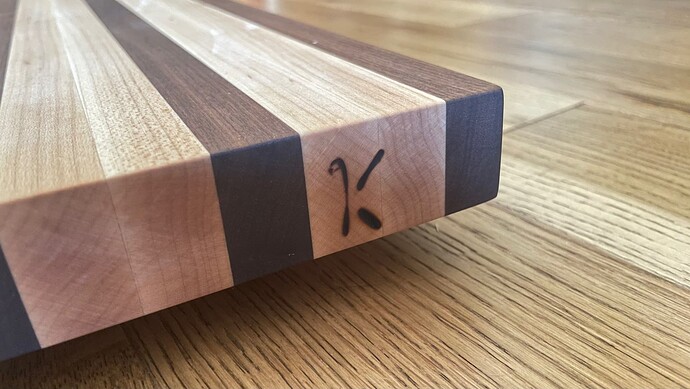 I ripped all the strips on a track saw, glued them up and then hand planed it to flat and parallel. Then I passed it through the thickness sander to remove any small waves, did finish edge treatments with a micro low angle plane and sanded from 120 up to 240 by hand, cleaning with alcohol in-between grits.
I've applied butcher block oil and did some pore filling on a small knot on the underside.