Hey all,
I'm making an LED grow light. I'm using an old PC CPU heat sink, since they are cheap and available.
Here's what this one looks like: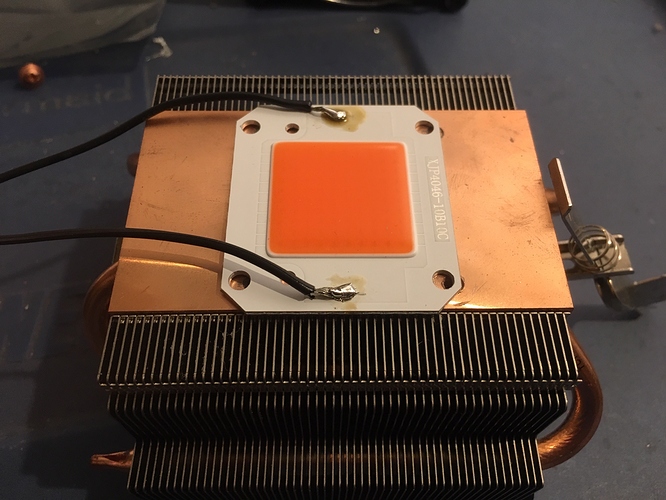 It's basically just an LED COB that will go on the PC heat sink. I have been drilling holes in the copper and tapping them for screws. I had some luck just tapping with a steel screw, since it is harder than the copper. Unfortunately I drilled one hole a bit too small and tried to force it:

The top right hole in that picture has a screw broken off in it. I really like this heat sink, so I don't want to scrap it.
Best I can see, I have two options: Leave it and only use 3 screws, or try to remove it and risk messing it up worse.
I'm leaning towards just using 3 screws. The heat sink is rated for 100w+ and the LED COB is only 50W. And the LED presumably emits a fair bit of that as light, whereas a CPU turns it all into heat that needs to be removed. I think it will still make good enough contact. The first one I built only used clips to secure the LED and it handled the heat well enough.
I also don't really know how I would get that screw out. The diameter of the hole is only 5/64", so I'd need to use an even smaller bit to drill it out. Since the screw is significantly harder than the copper, this might prove difficult. There are tiny screw extractors, but I don't really want to buy a special tool worth more than the whole project.
I think I have talked myself into just using 3 screws. But if anybody has an opinion, I'd love to hear it.
Thanks!