Lately I've been experimenting with several wood texturing techniques as well as working with various ways of colouring wood while preserving the figure. I played with airbrushing transparent acrylic paints with some promising results and then got into airbrushing Procion MX fabric dyes as it was suggested that they were more colourfast than other dyes and paints. I really liked the dyes because they did not leave any sort of film or texture on the surface like the acrylic paints did.
My first effort is a platter about 9.5" in diameter and 1" deep from curly Western Maple. The rim is burnt with a blowtorch until the wood was crackly and then scrubbed vigorously with a nylon brush. Hard to see in the photo but the curly figure became 3-dimensional with deep grooves between the curls. I then painted the rim with black India ink with a brush to even out the colour then sprayed with a couple coats of matte fixative. After turning out the centre it was airbrushed with a mixture of two different transparent red shades of Golden High Flow acrylic paint followed by some opaque black paint around the outer edge of the centre to blend with the rim. The centre and back were finished with several coats of water-based poly and buffed with automotive cut polish. Sadly, the platter was damaged in transit - you can see a blemish in the centre part.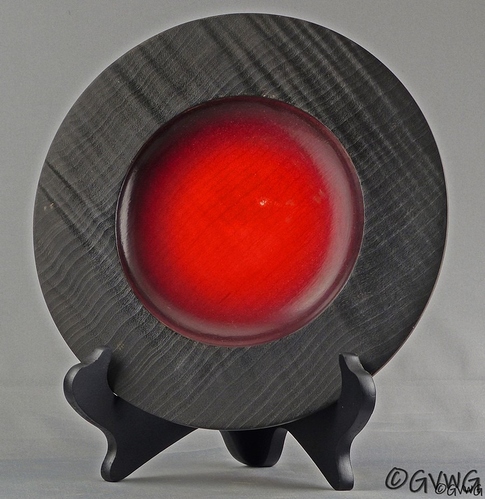 My next effort was a bowl about 12" in diameter and about 2.75" deep from not so figured Western Maple. The rim was textured with a 2" angle grinder using a fine Kutzall carving disk, then spray painted black with some Krylon enamel paint. After the paint dried, I sanded the rim to remove all of the paint except what was in the grooves left by the angle grinder. Then it was airbrushed with several different shades of green and blue Procion MX dye mixed 25:1. I didn't do a great job of blending some of the colours. The rim was finished with about 6 coats of Krylon UV resistant, water-based glossy fixative. The bowl was turned and finished with Shellawax lacquer friction polish as was the bottom side of the bowl.