Hey everyone,
I am once again asking for your sage insight regarding the development of my teensy synth project.
I'm using the teensy audio shield which has both line outputs as well as a headphone outputs, which is great. However, the headphone output on the audio shield uses its own internal virtual ground of about 1.65V, which means the headphone virtual ground can't be connected to any other ground. So plugging the headphone output into the input of an external amplifier with a different ground reference could damage the teensy audio shield chip. So these outputs are only meant to be connected to headphones–nothing else.
This is a problem because I am making this as a kit that eventually other people could build and use, and it's very likely someone will plug the headphone output into an amplifier or some other external gear, instead of just using the line outputs. I'd rather just fool proof the design so both are safe.
Soo, I read the manual for the audio shield chip (SGTL5000) as well as trying to find info on other forums and it looks like I can maybe just do this configuration: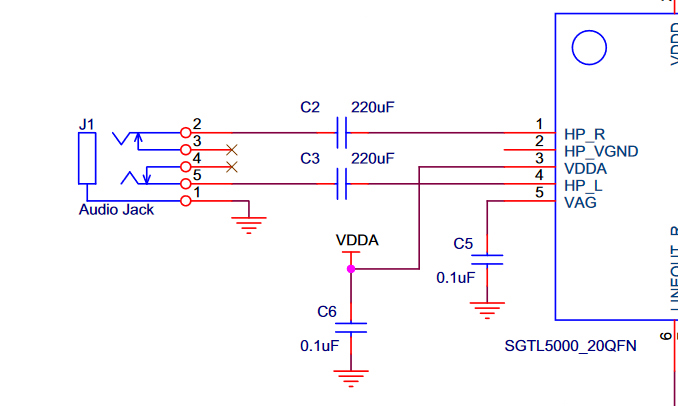 But my question is more in the specifics. Like should I use certain types of capacitors over others to avoid more phasing? Is there anything I could do to improve on this application to reduce any DC popping? Also I only have studied basic DC electronics concepts, I know how capacitors work but it's unclear to me what they are actually doing in this application? Are they creating a DC Bias or protecting the headphone amplifiers, or both? I don't really like adding circuits into my design that I don't fully understand. Any help would be greatly appreciated, thank you so much!