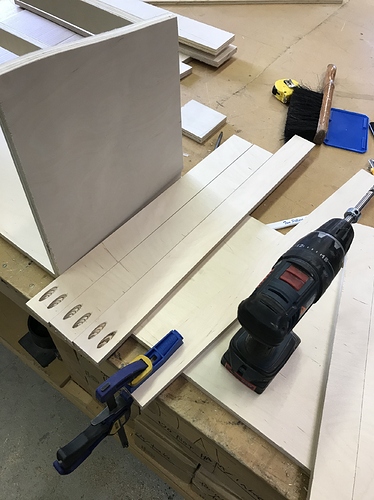 I recently built some cabinets with a little single hole pocket hole jig and a few members expressed interest in adding a proper pocket hole jig to the woodshop arsenal.
So whoever would find value in such an awesome tool and would like to pitch in, let me know!
If you haven't heard of pocket hole joinery, it's a really easy and super strong way to screw together cabinets or anything else made of materials 1/2"-1 1/2" thick.
There's a few levels of jig available, so depending on how much we raise we can get the fancier setup.
$69 buys a dual-hole jig and a face clamp
$139 buys a bench-top system
$199 buys a bench top system with a screw set and vacuum attachment
I'll pitch in $10 to get this started and donate about $60 worth of stuff left over from my project, (screws, bits, and the little jig)