I am using this
https://bitbucket.org/islandmagic/ble-bt-tnc/src/master/
Which allows RadioMail WinLink client on my iPhone to talk to TNC on my ham radio.
Using an esp32 board I picked up at Lee's
loaded the sketch and all working fine, tested it before going on vacation hooked up to laptop (for power),and talking to my Kenwood D74 ham radio with built in KISS TNC. Able to send several WinLink messages successfully via VECTOR's RF WinLink gateway.
Took it to Burnaby Ham Club coffee meetup this morning and while the esp32 (running off usb port on a battery pack) would light up, just couldn't connect to the radio or iPhone.
Got home fired up the Arduino-IDE, pushed the sketch to it, but nada, just not seeing it showing up on either the BTLE or BT Classic (3.0) side of things.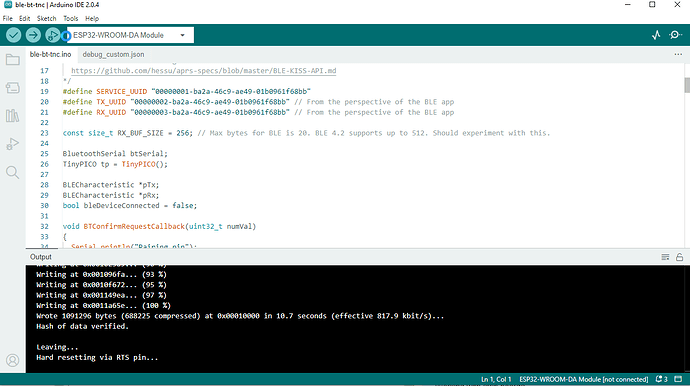 What am I missing here, is there something else I need to do to get this working again?