So @metal_janet and I own an industrial upholstery machine. Its currently housed at the hackspace in Calgary, and I will be heading out that way next week to pick up a few things, which means I could bring this baby in if VHS would like it.
Can't remember the exact model but it looks pretty much exactly like this: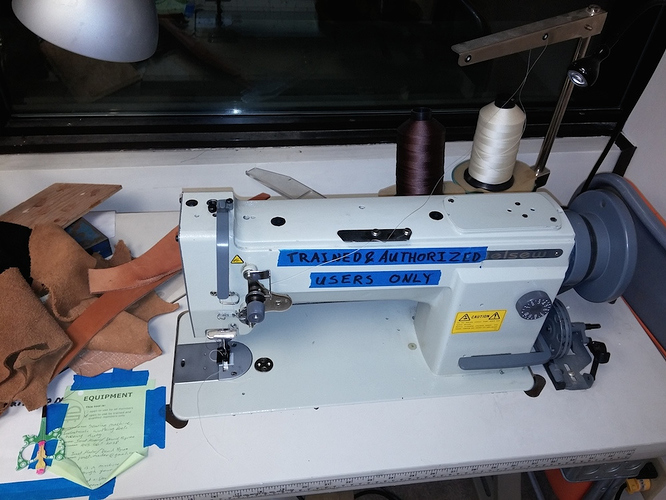 About:
Its a relsew, walking needle and walking foot upholstery machine.This means it clamps the material top and bottom, fires the needle through, then the whole shebang gets pulled through the machine ensuring all the layers move together.
Compared to our existing machines it cant to any fancy stitches (you get a straight lock stitch, and if you ask nicely you can adjust how long a stitch), but it can sew significantly tougher and thicker material. Practically the limit is about a half inch of whatever, fabric, canvas, leather, bike tires (its happened), etc. Its perfect for making leather tool rolls, canvas backpacks, couch covers, recreational equipment, that kinda thing.
Has a big motor mounted under the permanently attached table and all the standard stuff of an industrial machine (knee lever presser foot lift, clutch pack rather than a rheostat etc).
Where can it go?
Right now I am thinking It will fit in the space beside the existing sewing table, narrow end into the wall between the desk and the arlink benches. I will build some sort of caster/glide arrangement so it can be pulled out to be used. Its standard 110v power. Currently this space is occupied by a sewing dummy, but I will find a home for it.
About the loan
Loan agreement would be the standard, Janet and I maintain ownership of the machine, and loan it to the hackspace on an indefinite basis where it will be open and available to trained hackspace members. Please do not hack signs will be posted and we would like to be in charge of repairs and maintenance.
What about training?
If you can run a domestic machine you'll figure this one out pretty quick, but we will require a quick orientation course to cover the differences. Industrial machines have a wee bit more power than a home machine, and the foot pedal action is different than a domestic machine (you don't need to go full pedal to get over top dead centre and get the thing started for example). We will be offering this.
So, would the space like to borrow this?
Bring it on in.
Nah, I don't think it will get used.