Hey All
I'll be offering up a few Cutting Board workshops over the next few weeks after Culture Crawl. The workshop is designed for beginners and it will give you some guided experience using several mainstay tools in the woodshop. You will use the Miter Saw, Planer/Jointer, Tablesaw, A Router (handheld or table), and Orbital sanders as part of the workshop in a supervised environment. You will get a chance to work with some domestic and exotic hardwoods all while designing something you can take home and use for years to come. Here is an example of some of the work put out from this workshop.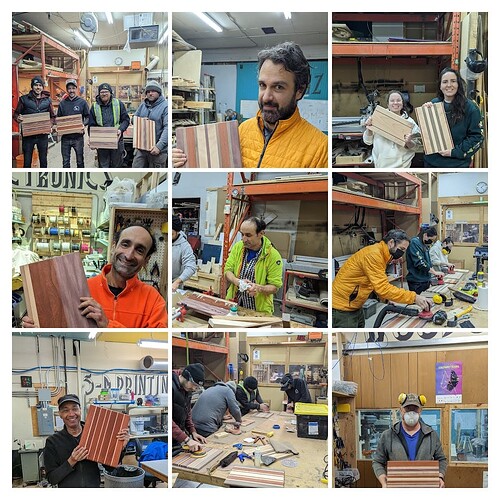 This is a two day workshop. To attend the workshop i've set specific dates to work as Day 1 and Day 2 to try and make things a bit easier to manage. Each day runs about 3-4 hours depending on the number of participants and the volume of questions. If you are interested please reply below and let me know what dates/times work out best for you.
Tasks done during the workshop
Day 1:
Design and plan out your cutting board and cuts.
Cut rough sawn lumber to rough size.
Tool orientation on Jointer/Planer and Tablesaw.
Square up the lumber and cut workpieces.
Glue up your pieces.
Day 2:
jointer/planer refresh when flattening the boards
Tablesaw refresher to square up your cutting board
Route edges around the perimeter of the cutting board
Sanding, Sanding, Sanding
Grain Pop, Cleanup Break, Instructions on Finishing Steps.
One quick final Sanding
Dates for the workshop:
Day 1 slots:
Saturday, November 25th: 10 am - 2 pm - (2 of 4 spots available)
Wednesday, November 29th: 4pm - 8pm - (2 of 4 spots available)
Monday, December 4th: 4pm - 8pm - (1 of 4 spots available)
Saturday, December 9th: 10am- 2pm - (2 of 4 spots available)
Day 2 slots
Sunday, November 26th: 10am - 2pm - (2 of 4 spots available)
Friday, December 1st: 4pm - 8pm - (2 of 4 spots available)
Wednesday, December 6th: 4pm - 8pm - (3 of 4 spots available)
Sunday, December 10th: 10am - 2pm - (0 of 4 spots available)
Note: last updated Nov 8th.
Pricing:
| Type of person | Previously Oriented on the Tablesaw and Planer Jointer? | Cost |
| --- | --- | --- |
| VHS Member | Yes | 80.00 |
| VHS Member | No | 130.00 - 50 dollars donated back to the hackspace on your behalf as part of the training/orientation. |
| Non VHS Member | No | 150.00 - 70 dollars donated back to the hackspace. If they become members they will be considered oriented on the Tablesaw and Jointer/Planer |