After making some attempts to record myself doing some woodworking, I've recognized a need for my camera to be decoupled from my benchtop (or in this case, my temporary bench). The most logical place to attach my camera is my shop wall.
But I can't just have a static postiion. I want to be able to dial in each shot to show off important detail. So why not a robot?
This is what I ended up building (currently in-test on my floor)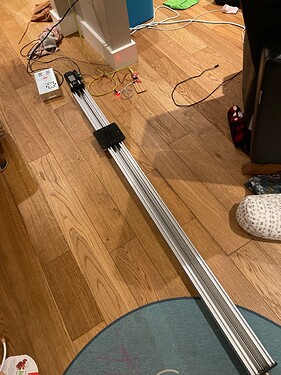 Its a 1.5m C-Channel leadscrew linear actuator kit from from www.MakerParts.ca. It is smooth as butter and long enough to traverse most of my workbench.
I was going to write my own firmware for it, because my goals were to support a few simple features and eventually more, all through an ESP32, but I discovered this lovely, recent, and active project, fluidnc.
For those familiar with GRBL, it is a (double) fork off of GRBL. First fork was to make a direct port to supporting ESP32, and the second fork adds additional features effectively turning it into an all-in-one GRBL+CNC.js while maintaining almost all backwards compatibility.
Once I got it going, I wanted to add physical jog and stop buttons. I bust out an old MIDI project board of mine that was a reject board and made use of the mounting pads for some keyboard cherry-style switches along with adding an optical endstop.
Next I need to mount the electronics into an enclosure and mount the rail into my shop.
A first timelapse where the sled was moving about 100mm per minute: