CALL FOR PARTICIPANTS! BYOB (Bring Your Own Beamer)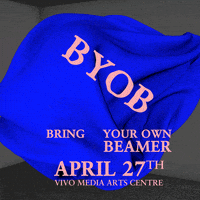 Saturday, April 27, 2019
8pm–12am
VIVO Media Arts Centre – 2625 Kaslo Street, Vancouver
FREE for participating artists – Sign up deadline is 5pm on April 23.
---
On Saturday April 27 from 8pm–12am VIVO Media Arts Centre is having a fundraiser and presenting the third edition of Bring Your Own Beamer (BYOB!)
The event, conceived by Dutch-Brazilian artist Rafaël Rozendaal, is a one-night only screening where artists display their work using their own projector. Formats of all varieties will be presented simultaneously, throughout VIVO and across the walls of our 2,000 square foot studio space.
We are looking for interested participants to sign up and present their work.
This could include visual experiments, short or long animations, home videos, DIY experiments, cutting edge video art, interactive installations, web-based projects, film projections, or a video game you've created! If it needs a projector, and you want to show it, sign up!
If you would like to present as a participating artist, please email info@vivomediaarts.com with your file/video format of choice and tell us what you'd like to project.
Participating artists are asked to install their work between 6pm–7pm on the night of the event.
Sign up deadline is 5pm on April 23.
Don't have a projector? Don't worry, get in touch. We have a limited number of projectors for rent at reasonable rates. Purchase a membership and we'll cut you a deal.
For more information contact Lianne Zannier at info@vivomediaarts.com