My cat Azzy suffers from a mild but annoying form of dysphagia. We think it would help to monitor and limit how much water he drinks at one time, since he has a habit of chugging way too much at once and then puking it on the floor.
The water dish has a little 5v pump that recirculates the water. If the pump loses power, the water drains down into the reservoir and he can't drink any more. The dish is mostly plastic but has a stainless steel liner for the top drinking area.
I want to sense when he is drinking, and then cut power to the pump 15 seconds later, then restore power to the pump a minute after that. How should I sense when he is drinking?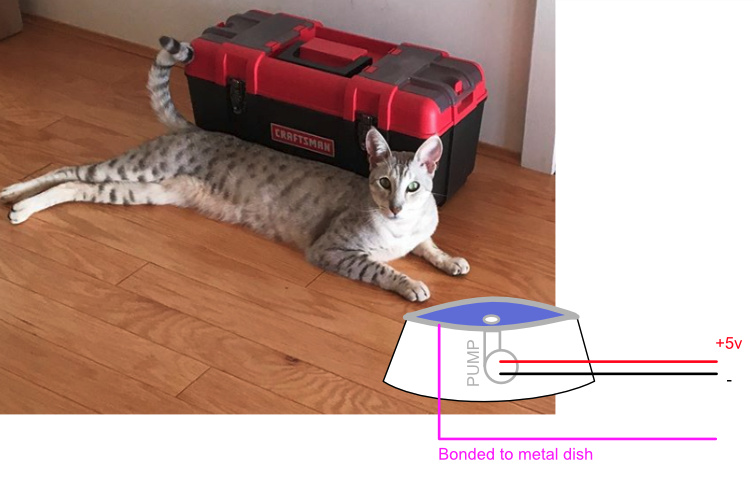 My first thought is to bond a wire to the metal dish (pink wire in diagram), and monitor capacitance. Just like capacitance touch switches such as a floor lamp that response to touching any metal part.
My second thought is to put the whole dish on a stainless steel mat, so that Azzy's front paws rest on the mat while drinking. Then measure resistance between the mat and the pink wire.
I would like to do this with an ESP32, using its built-in touch sensor capabilities if I'm going with option 1.
What do you all recommend?